Meet Dan Bildhauer
This election in Edmonton-Meadowlark is about whom will you trust to be the most competent MLA to represent your views and voice in the Legislature. The central message I heard after door-knocking thousands of doors is that our constituents are disapointed and angry with the PCs and are looking for an alternative. Please consider voting strategically - any vote for WRP or NDP is a vote for the PC. This election send a clear and strong message and vote LIBERAL!


After a lengthy and successful career in the public service and building a busy construction company in Edmonton, Dan Bildhauer has again answered the call to public service by being the Liberal candidate in Edmonton-Meadowlark, where he has built a dedicated volunteer team and strong ties to the community.

Dan is a Liberal politician in Alberta not because it is easy, but because it is important.&nbsp Mr Bildhauer is a politician with passion, vision, energy and tenacity; knowleagable of public policy, and able to motivate and energize people whose lives he touches.

At the core of Dan's political candidacy, values and guiding principles, there is a deep and sincere sense of social responsibility, and a continued devotion to serve the noble purpose of public and national interest.

Mr Bildhauer's goal is to be trusted by you, the hard-working families of Edmonton-Meadowlark, and to take your concerns to government, instead of taking government concerns to you.

"I decided to run for the Alberta Liberals because, like my leader Dr. Swann, I want to see action on centrist progressive issues, an urban agenda and real accountable leadership for all Albertans.
Like you and your family, I expect our elected leaders to have honesty, integrity, accountability, empathy, and optimism.
On Tuesday May 5th, you will pick the representative you want to be our voice.&nbsp I ask you to vote for me, Dan Bildhauer, your Liberal candidate in Edmonton-Meadowlark, and let me be your voice in Legislature for a better future for all Albertans.
Dan Bildhauer



Politics can be done differently - it can be positive, trustworthy, engaging and inclusive.
Vote for the change you wish to see in this world, vote for a better Alberta for everyone, vote LIBERAL!


Contact Team Bildhauer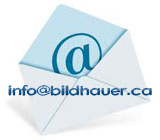 How to get in touch with us

Campaign Office: 15215 Stony Plain Rd, Edmonton | 780-306-7746


Dan Bildhauer direct line 780-777-0539





What you can find on this page

Contact information for Team Bildhaauer


Volunteer on Team Bildhauer


Door-knock with Dan


Donate to Dan Bildhauer Campaign


On parle aussi français


Bildhauer Campaign Policies & Priorities
Our vision for Alberta's economy

A strong and divesified economy that creates jobs and prosperity for all Albertans.


Economic policies must go beyond dependency on natural resources by supporting value-added activities such as bitumen processing.


Your government has to show the necessary leadership that results in industries that are competitive in the global market place by supporting inovation and research.


We need sustainable solutions, not band-aid measures, that work for all Albertans and that will guarantee long-term prosperity.


After more than four decades of Conservative governments, we are still susceptible to the boom and bust cycles of global oil prices.


Access to education is a priority

Government fiscal policy must recognise that education is a key-driver of economic prosperity.


Post-secondary education and vocational training must be affordable to all Albertans. Let's not leave any bright mind behind!


Alberta has tens of thousands of jobs that cannot be filled, and an equal amount of Albertans uneployed, under-employed or who have given up looking for a job.


We Liberals, believe there should be no school fees. Many families that are strugling to put food on the table cannot afford these fees. This is another form of taxation that hurts working families with lower incomes.


Edmonton-Meadowlark is one of the constituencies where we need more schools. Alberta has a deficit of about 50 schools because of this has never been a Conservative priority, even in good times.


A better immigration system

The annual federal immigration levels are established in cooperation with the provinces.&nbsp We need to revisit immigration levels, since we have essentially the same level of immigration as we did 25 years ago, while the number of temporary foreign workers has grown from 25,000 per year, to 350,000.


The Conservatives have turned our temporary foreign program into a permanent solution to an inadequate immigration program.&nbsp At the same time the Provincial Nominee Program has remained at a very low 5,500 per year.


There is a global competition for skilled migrants - years of wait in the immigration process line is not acceptable.


We have urgent needs to fix serious structural issues with out immigration system: job classifications categorised as a priority for immigration do not match our economic reality, mismanagement of the Labour Market Opinion process has resulted in significant unemployment for Albertans.


Healthcare that works for Albertans

A properly managed system would result in more doctors and nurses, as well as shorter wait times.


The Conservative approach is short-term - cuts now, and see what happens later. The Liberal approach is with a long-term view that not only makes sense from a social perspective, but also financially. For every emergency room bed occupied by a patient that should have access to a long-term care facility, we could fund 100 beds in long-term care facility. In the same way, prevention programs and in-home care would be better for the patients and save healthcare dollars.


Reduce drug costs and in-home support services for seniors with low pensions.

Edmonton West, Alberta Elections, Liberal Nominations, 2015 Federal Elections, Liberal Party of Canada, Alberta Liberal, Canadian politics, Canadian political campaign, Alberta politics